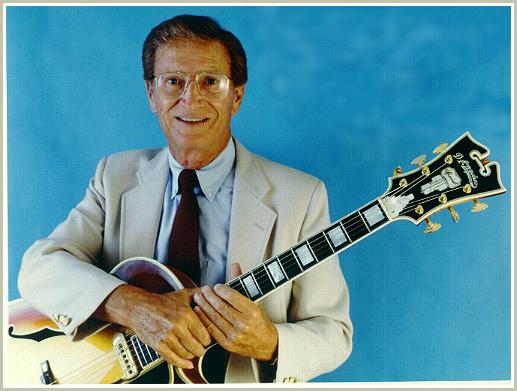 PROLIFIC is the word to describe veteran guitarist Harold Ray Bradley. In December 1990, Bradley was elected President of the 3,500 member Nashville Association of Musicians Local 257 of the American Federation of Musicians. A Life Member, Bradley has been active in the Nashville Local for many years.

Harold Bradley was the first president of NARAS' Nashville chapter and continues as a member of the Grammy organization's Board of Governors. In December 1991, Harold Bradley marks his 45th year as a studio musician. He was part of the original "A Team" of Nashville superpickers, one of those John Sebastian immortalized in his song "Nashville Cats." Harold Bradley can be heard on some of Elvis Presley's records and movie soundtracks as well as those of such entertainers as Perry Como, Joan Baez, Buddy Holly, Ivory Joe Hunter, Pee Wee King, George Morgan, Hank Williams, Burl Ives, Henry Mancini, Connie Francis, George Beverly Shea, Hank Snow, Jim Reeves, Charley Pride, Leon Russell, The Everly Brothers, Gene Watson, Marty Robbins, Freddie Hart, Conway Twitty and Roy Clark.

He's played on such classic cuts as Red Foley's "Chattanoogie Shoe Shine Boy," Ray Anthony's "Do the Hokey Pokey," Bobby Helms' "Jingle Bell Rock," Brenda Lee's "I'm Sorry," Roy Orbison's "Only the Lonely," Patsy Cline's "Crazy," Johnny Horton's "Battle of Now Orleans," Jimmy Dean's "Big Bad John," Roger Miller's "King of the Road," Jeannie C. Riley's "Harper Valley PTA." Tammy Wynette's "Stand By Your Man," Eddy Arnold's "Make the World Go Away," Loretta Lynn's "Coal Miner's Daughter," The Everly Brothers' "Ebony Eyes" and John Anderson's "Swinging'."

Harold Bradley can boast a trio of his own albums on the Columbia label "Misty Guitar," "The Bossa Nova Goes to Nashville" and "Guitar For Lovers Only." His musical input can be heard, too, on such other LP's as the Bear Family's ambitious four-compact disc set 'Webb Pierce, The Wandering Boy, 1951-1958," and Alan Jackson's recent "Here In the Real World" for Arista.

Bradley was born Jan. 2, 1926, in Nashville. His older brother, Owen (a member of the Country Music Hall of Fame), was a strong early musical influence. Although Owen Bradley had earned his spurs as a pianist, Harold Bradley was at first fascinated by the banjo. Instead, taking big brother's advice, he began learning to play the guitar. His idols then were Charlie Christian and George Barnes. While still a teenager, Harold landed a much-coveted band spot with legendary Ernest Tubb in 1943. After high school graduation, Bradley joined the Navy.

Upon his discharge in 1946, he studied at George Peabody College under the GI Bill. To enhance his income, however, Harold played on the Opry with Eddy Arnold and Bradley Kincaid. His first recording session was Dec. 17, 1946, with Pee Wee King and the Golden West Cowboys in Chicago. Two King songs on which Bradley's contribution was notable are "Texas Toni Lee" and "Tennessee Central Number Nine."

Harold Bradley is one of 12 musicians inducted into the Studio Musicians Hall of Fame at RCA's Studio 8, now a museum operated by the Country Music Foundation. Harold Bradley also won the National Academy of Recording Arts & Sciences' "Superpicker" Award from 1974 through 1979. Who's Who In Country Music listed Harold Bradley on its Most Valuable Player polls in 1977, '78 and '79. He was also among the Billboard Top 10 Most Promising Artists in 1964.

Bradley's credits also include co-producing 39 filmed 30 minute variety shows titled "Country Style, USA,- with Owen Bradley." Featured for this late 1950's TV series were many stars at The Grand Ole Opry. In addition, Bradley was music director for the Public Broadcasting Service (PBS) fund-raising telethon, "Legends of Country Music," in 1985.

Artists Harold Bradley has represented or produced personally include Byron and Slim Whitman, Billy Chinnock, Eddy Arnold and new Irish singer Sandy Kelly.

Among the cinematic soundtracks boasting Bradley's touch are ''Kissin' Cousins," "Clambake," "Stay Away Joe," "The Fastest Guitar Alive," "Sugarland Express," "A Walk In the Spring Rain," "Tick, Tick, Tick,""Breathless," "Smokey & The Bandit II," "Coal Miner's Daughter," "Six-pack," "Missing" and "Sweet Dreams. Bradley also appeared briefly In Robert Altman's award-winning movie "Nashville."