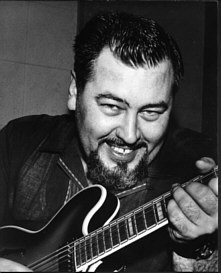 Born: Jan. 17,1929, Chapel Hill, Tenn.
First Session: Curly Fox & Texas Ruby, Chicago, Feb. 15,1946
Notable sessions: Marty Robbins' El Paso and Don't Worry, Willie Nelson's On the Road Again, Red Foley's Chattanoogie Shoe Shine Boy, Merle Haggard's That's the Way Love Goes, Roy Orbison's Oh, Pretty Woman, Sammi Smith's Help Me Make It Through the Night
"Grady Martin could play three or four notes, and they'd mean 100 times more than any other person that would play 100 notes," A Team bass player Bob Moore says. "He'd just make so much out of everything he played - the best taste you've ever heard."
"Grady was the best leader I ever worked for," says multi-instrumentalist Charlie McCoy. "He was like an interior decorator who could walk in, look at a bare room and visualize the final result."
The Nashville Entertainment Association gave him its Master Award in 1983 and invited him to join an all-star band. Martin declined, preferring to remain where he'd always been: in the background.
"I'm not a star," he told The Tennessean. "Makin' a good record and havin' it accepted, just bein' part of havin' a hit record, that's what mattered to me."
At age 15, Martin was invited to perform regularly on WILAC-AM, and he made his recording debut just two years later. Eventually, he was made the leader on many of Nashville's sessions, meaning he was responsible for hiring the musicians and serving as a liaison between the producer and the players. He took the role seriously, sometimes getting just a couple of hours sleep.
"You'd just kinda pull up and sleep under the piano," he said, "or anywhere you could."
The above text was adapted from an article written in The Tennessean by Tom Roland.