.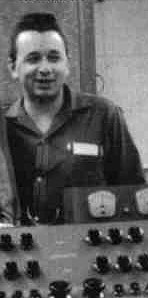 Buddy Harman, one of Nashville's outstanding session drummers, has played his solid, driving beat on over 17,000 recording sessions over the last 40 years. Harman, along with only a handful of top musicians, is recognized by the Hall of Fame for creating the "Nashville Sound." This unique musical sound help Nashville to become known as one of the top music Mecca's in the world.
Besides being acknowledged by the country music community, Buddy Harman is recognized for contributing to the Rock and Roll era with his performance on many recordings including the Everly Brothers' "Cathy's Clown" and being a mainstay on Elvis Presley's soundtrack recordings both in Nashville and Los Angeles and on Roy Orbison and Jerry Lee Lewis recordings.
Harman has played drums on countless records with a variety of recording artists that reads like a page out of "Who's Who." These artists include: Patsy Cline, Dolly Parton, Patti Page, Brenda Lee, Tammy Wynette, Loretta Lynn, Roy Orbison, Connie Francis, Chet Atkins, Marty Robbins, Johnny Cash, Willie Nelson, Waylon Jennings, Lynn Anderson, George Hones, Ray Price, Kenny Rogers, Barbara Mandrell, the Statler Brothers, Slim Whitman, Eddy Arnold, Perry Como, Merle Haggard, Charlie Rich, Roger Miller, Jimmy Dean, K.D. Lang, Simon and Garfunkel, Ann Margaret, Nancy Sinatra, O. C. Smith, George Burns, Reba McEntire, Al Hirt, Anita Bryant, Pete Fountain, Booby Vinton, The Four Freshmen, Andy Williams, Ringo Star, plus many more. Harman states, "It's a pleasure to work with so many talented performers and be a part of some of the music industry's most memorable recordings."
Harman has played on some of the biggest hits of Grand Ole Opry performers including: Charlie Walker, Billy Walker, Jeannie Seely, Connie Smith, Hank Snow, Jim & Jesse, Roy Acuff, Roy Clark, Justin Tubb, Roy Drusky, The Carlisles, Mac Wiseman, Skeeter Davis, Vic Willis Trio, Wilburn Brothers, Little Jimmy Dickens, the Osbourne Brothers, Louvin Brothers, Jim Ed Brown, Wilma Lee & Stoney Cooper, Jan Howard, Ray Pillow, Jimmy C. Newman, Jack Greene, Del Reeves, Johnny Russell and Stonewall Jackson.
Harman has played on numerous jingles, TV and radio shows, and movie sound tracks. Some television credits include: The Ed Sullivan Show with Johnny Horton, Nashville Now, Hee Haw, Austin City Limits, Nashville Scene, and the Dick Clark Special with Jerry Lee Lewis. Movie sound tracks include: Elvis Presley movies, Coal Miner's Daughter and Sweet Dreams. Harman has also played on several European tours with various artists including the Nashville Super Picker Band and Jerry Lee Lewis.
Besides being the first regular drummer on the Grand Ole Opry, some of Harman's accolades include: "Drummer of the Year" in 1981 from the Academy of Country Music, "Super Picker" Award for drums on the most #1 recordings from the Nashville NARAS chapter in 1975 and 1976, and the Nashville Super Picker nomination for "Best Country Instrumental Performance" in 1979 for the Live From Austin City Limits album. As of May 1991, Harman is again the staff drummer at the Grand Ole Opry, in Nashville, Tennessee.
Harman states, "One of the highlights of my career was having the privilege of performing for four of our nation's presidents." These presidents include: John F. Kennedy, Gerald Ford, Jimmy Carter, and Ronald Reagan.
Buddy Harman, an accomplished musician, exemplifies the qualities of a true professional in the recording business.
The following is a partial list of hit songs Harman has played on:
1. Pretty Woman (Roy Orbison)
| | |
| --- | --- |
| | |
| Faster downloading, lower quality | Slower downloading, higher quality drum sound reproduction |
2. Crying (Roy Orbison)

3. Crazy (Patsy Cline)
4. Cathy's Clown (Everly Brothers)
5. King of the Road (Roger Miller)
6. Big Bad John (Jimmy Dean)
7. Ring of Fire (Johnny Cash)
8. Bye Bye Love (Everly Brothers)
9. Only the Lonely (Roy Orbison)
10. Night Life (Ray Price)
11. I'm Sorry (Brenda Lee)
12. Stand by Your Man (Tammy Wynette)
13. Rose Garden (Lynn Anderson)
14. The Battle of New Orleans (Johnny Horton)
15. Running Scared (Roy Orbison)
16. What'd I Say (Jerry Lee Lewis)
17. Heartaches by the Number (Ray Price)


26 NOV 2007

LEGENDARY BASSIST BOB MOORE TO BE INDUCTED INTO THE NASHVILLE MUSICIANS HALL OF FAME
Click here for full press release at:
Musicians Hall of Fame amd Museum
.First Annual Induction Ceremony held by the Musicians Hall of Fame to be held at the Schermerhorn Symphony Hall on November 26, 2007. Inductees include The NASHVILLE A-TEAM, (Bob Moore, Buddy Harman, Hank Garland, Pig Robbins, Grady Martin, Ray Edenton, Boots, etc.) The Memphis Boys (Reggie Young, Bobby Wood, Gene Chrisman etc.) The BLUE MOON BOYS (Scotty Moore & DJ Fontana) The Los Angeles Wrecking Crew, The Funk Brothers. Program includes live appearences by Vince Gill, Amy Grant, Peter Frampton and many MANY others. (Yes, Garth Brooks will be performing Live and in Person) This is a once in a lifetime, NOT-TO-BE-MISSED event! Tickets $50 are available at: www.nashvillesymphony.org